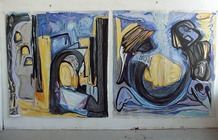 "The Bridge", Diptych, oil on canvas, 66" x 132" in Stamford CT studio
MARY LOUISE LONG
"MONOTYPES"
"Mary Louise Long arrived at the monotype medium after years of painting and working with other graphic techniques, such as etching and lithography. Her first taste of the monotype medium was in 1980, and she quickly found herself challenged by the speed of the process and the potential for transferring painterly qualities. Since then, she has been dividing her creative energy between painting with oils on canvas and printing with lithographic and etching inks on metal etching and Plexiglas plates.
Long draws her inspiration from the visions of Rembrandt, Goya, Munch, Pollock, DeKooning and the late work of Guston. These artists have not influenced her forms so much as enriched her sensibility. Although at first glance her prints (as well as paintings) seem grounded in the Abstract Expressionist tradition, Long is less concerned with issues of surface than were the members of the New York School. Mythical and literary allusions are essential to the understanding of her work. The abstract forms in her pieces twist and bend in a frenzy, crowd the entire surface, and threaten to erupt, recalling the eternal conflicts limned in the myths and tragedies of ancient Greece. Her colors are of a richness and vibrancy rarely captured in the monotype medium; they radiate an emotional intensity that ultimately makes her work life-affirming."
Alejandro Anreus, Curator, Montclair Art Museum, Montclair, New Jersey
"VINEYARDS GALLERY SHOW LONG ON INSPIRED IMAGES"
..."Long's abstract expressionist works are not tired and boring, but rather fresh and engaging. This is difficult to achieve in a genre often misunderstood and falsely maligned by detractors. Abstract art has a tradition going back to the 1930's. European artists such as Gorky and Mondrian paved the way for Pollock and DeKooning and they in turn provided the dialogue present in Long's work.
Long says, "Many of my images are interpretations of dreams. Others I derive from literary or mythical allusions. Sometimes, I combine these with contemporary themes."
Inherent in Long's paintings...is a deep sense of lyricism, expressed in the rhythms of the forms she uses, and the sumptuousness of her colors, think and sensual.
The strongest work in the show can be found among the monotypes, which Long describes as single prints made from a metal or Plexiglas plate on which a picture is painted. She uses oil-based lithographic inks on zinc etching plates. Dampened paper is placed over the plate, which is then run through a press. This process affords Long an immediacy in producing images as well as offering her a method amenable to her painterly style. This is evident in "Blooming at Beltane" and "With Shelving Banks."
These monotypes are bursting with color and are more than just pleasing to the eye. They have a formalism about them that connects with the contemporary traditions founded in Abstract Expressionism.
Another piece, "Venus of Willendorf," a small 8 x 10 inch oil painting, has a striking connection to the work of the modern master Grace Hartigan. Long has developed her craft in a respectful manner, bringing her own voice to the table."
James Montford, Special to the Norwich Bulletin, April 24, 1997
"MARY LOUISE LONG - PAINTERLY PASSAGES"
"When viewing Mary Louise Long's giant abstract expressionist paintings one becomes absorbed in bold, vigorous color and powerful design.
There is nothing subtle about Mary Louise's artistry. Her work pulls the viewer into a world of aggressive form and potent color and does not let the viewer escape. Consider viewing an abstract diptych of robust blues and yellows with a circular and rectangular theme titled "The Bridge", that measures 6 by 12 feet. Turn to the left and face a 6 by 5 foot canvas of striking pinks, reds, blues, beiges and greens titled "Deuces Are Wild"....and spread among her large works are twenty monotypes of various sizes that are no less striking to the viewer."
Stephen Rockwell Desloge, Rockwell Art, Norwalk, Connecticut, January 2004