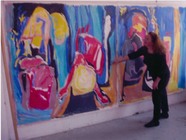 Working in oil painting and printmaking monotypes, allows me to gravitate between the two mediums, each providing inspiration for the other. Etching and lithographic inks are so saturated with intense color that it is exhilarating and demanding to work with them. As the brilliant colors play against one another the created shapes develop a life of their own. From the monotypes the paintings begin to take form. I work with these shapes, editing the content, until just enough is said. I want the viewer to experience the paint and mark making.
Recurring ancient mythological themes emerge; the human condition is foremost in my mind. Though not derived directly from nature, these works attempt to interpret existence., not only celebrating it, but questioning it. The artist Goya is a profound influence for his angst-ridden etchings carry one to the depths of understanding.
When contemplating color, one of my favorite artists is Pierre Bonnard, for his delightful palette and composition. Henri Matisse's use of color and shape also come to mind, as well as his use of black as a color influencing the form.
Classical mythology and poetry also relate to the work. "Ye Buoyant Waves Hath Borne", a diptych six by twelve feet, is titled from the Lord Byron poem "The Bride of Abydos"...."These Limbs that buoyant wave hath borne" wherein Byron describes the tale of Hero and Leander. In this Classical myth Leander swims the Hellespont. Many references to the sensation and flow of water, as well as an awareness of glowing light and warmth are seen in this painting.
Although lines of poetry convey hints to the content of my work, I want the viewers to bring their own thoughts to the surface.
And from the poet Dante...
"I looked up Toward the crest and saw its shoulders already Mantled in rays of that bright planet that shows The road to everyone, whatever our journey."